We connect our people to opportunity.
WeConnect™ team members have a one-of-a-kind view of innovation. In our work, we develop skills that put us above others in the telecommunications field. And this gives us the opportunity to grow, in ways we and our families might never have imagined.
Our skilled service technicians, installers and support professionals are completely focused on the distribution, installation, service and support of satellite and wireless systems for data and entertainment.
Become a Satellite or Cable Installation Technician
Do you enjoy working indoors and outdoors, talking with customers and learning new technologies? Are you looking for an opportunity that gives you independence and control over your own success? At WeConnect™, our technicians are Home Entertainment Specialists who can be proud of the expertise they gain in home entertainment systems.
Join us, and you'll install technology and then teach our customers how to use their state-of-the-art satellite TV and internet systems. All of this is with full support by a strong team of WeConnect™ Customer Service Representatives, Trainers, Quality Assurance Specialists, Inventory Specialists and Managers.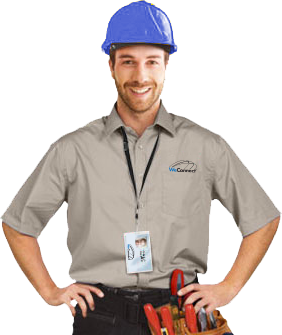 What we value most are team members who:
Are All-In, passionate people who put nothing short of 100% into everything they do.

Roll Up Their Sleeves, seeing opportunities and taking chances to make the most of them and make WeConnect™ stronger.

Work Together, because our success is exponentially greater when we're a team.

Drive Future Success, keeping eyes on the road ahead always working smarter in this ever-changing world.