Simply stated, WeConnect™ is built on our insatiable desire to win.
First to deliver or find a solution. Smarter than anyone else in connecting next-generation technology.
Our brains never stop working. We're devising how to deliver the next generation of technology while we're at work, and we don't stop while we sleep. Whatever our partners can create, we can implement.
It's always been that way.
And once we think of a solution, we can't rest till it's in place. It's a drive from deep within us. We'll do whatever it takes to advance technology to the next level—through knowledge and determination.
Our Work
At WeConnect™ we make connections—implementing world-class technology for nationally recognized and innovative organizations.
Technology, and "the internet of things," has the incredible potential to bring the world into homes and businesses in ways some never dreamed of. But technology, by itself, means nothing. We have to be able to connect to it. WeConnect™ builds ways to do just that. Through software, processes and systems. Wire, cable, fiber or a means yet to be discovered. Underground, overhead or by satellite. Across your community and across this nation. We're wired to bring innovation wherever and whenever it's needed.
Our technology partners and independent contractors know that WeConnect™ is as smart and nimble as the next great innovation requires.
WeConnect™ is driven by hardworking people who challenge the status quo—who are determined to find the smartest path forward. We surround ourselves with capable team members who share a common vision for our future, a clear mission for our daily work, and values that align us. That makes anything possible.
To relentlessly build our people, our company and our success in integrating the next generation of technology solutions.
We connect next-generation technology—smarter than anyone else.
Be All-In. We're passionate people. We put nothing short of 100% into everything we do because our greatest source is what we can accomplish.

Roll Up Your Sleeves. Every day offers new opportunities, big or small, to exceed expectations. When we see opportunities, we take chances to make the most of them. We show we care by doing our part to grow ourselves and make WeConnect™ stronger.

Work Together. We have confidence in and value our people. Our success is exponentially greater when we work together. We demonstrate that we see the potential and value in our team when we work together for success. We know the importance of family, and we refer to our team that way.

Drive Future Success. We're here for the long haul. We keep our eyes on the road ahead and lead transformations as we adapt and work smarter in our ever-changing industry.
We became WeConnect™ in 2016. Our entrepreneurial spirit, however, was at work long before.
WeConnect™ formed when two privately held companies, Alternative Entertainment Inc. (AEI) and WeConnect Enterprise Solutions, combined in September 2016. These two companies had been collaborating for years— rallying resources, sourcing materials and implementing new technologies in record time to implement the technology of nationally recognized internet and satellite providers. Working together, AEI and WeConnect Enterprise Solutions could be as nimble as the next great technological innovation required. Our founders, Tom Burgess of AEI and Brad Libby of WeConnect Enterprise Solutions, saw that we were stronger together. And we officially became one company, WeConnect™.
Our story, however, and relentless pursuit of success began years before WeConnect™. It might have started with Brad selling pumpkins at age 6, or starting his first IT company in middle school.
It might have begun in 1997 with Tom founding a fulfillment company for world-renowned brands in his 600-square-foot garage. A turning point was Tom's determination to expand the business for future opportunity. Anyone can clearly see Tom and Brad's drive, and that for these two entrepreneurs, failure is not an option.
The point is, the path to WeConnect™ wasn't linear. Rather, WeConnect™ was built on sheer determination and confidence, on seeing opportunities and taking chances to make the most of them.
Today WeConnect™ has executive offices in Lincoln, Maine, and Green Bay, Wisconsin, with operation centers across the Midwest, distribution centers on the East Coast and business locations on the West Coast.
Our nearly 500 employees see and make the most of opportunities to drive success for our partners, our company and their personal growth.
Our Team
We connect innovation to people—and we connect our people to opportunity.
As a growing company in an ever-expanding industry, our team members hear about next-generation technology and services before the rest of the world does, every day. They have a one-of-a-kind view of innovation and, in this way, develop skills that put them above others in the field. This gives them the opportunity to grow, in ways they and their families may never have imagined.
We're experts, addicted to the thrill of solving the toughest issues facing our partners in implementing next-generation technology.
If you're driven, willing to roll up your sleeves and work with others to drive success, we're always looking for new team members. Join us for a future of transformational growth—for you and for our company.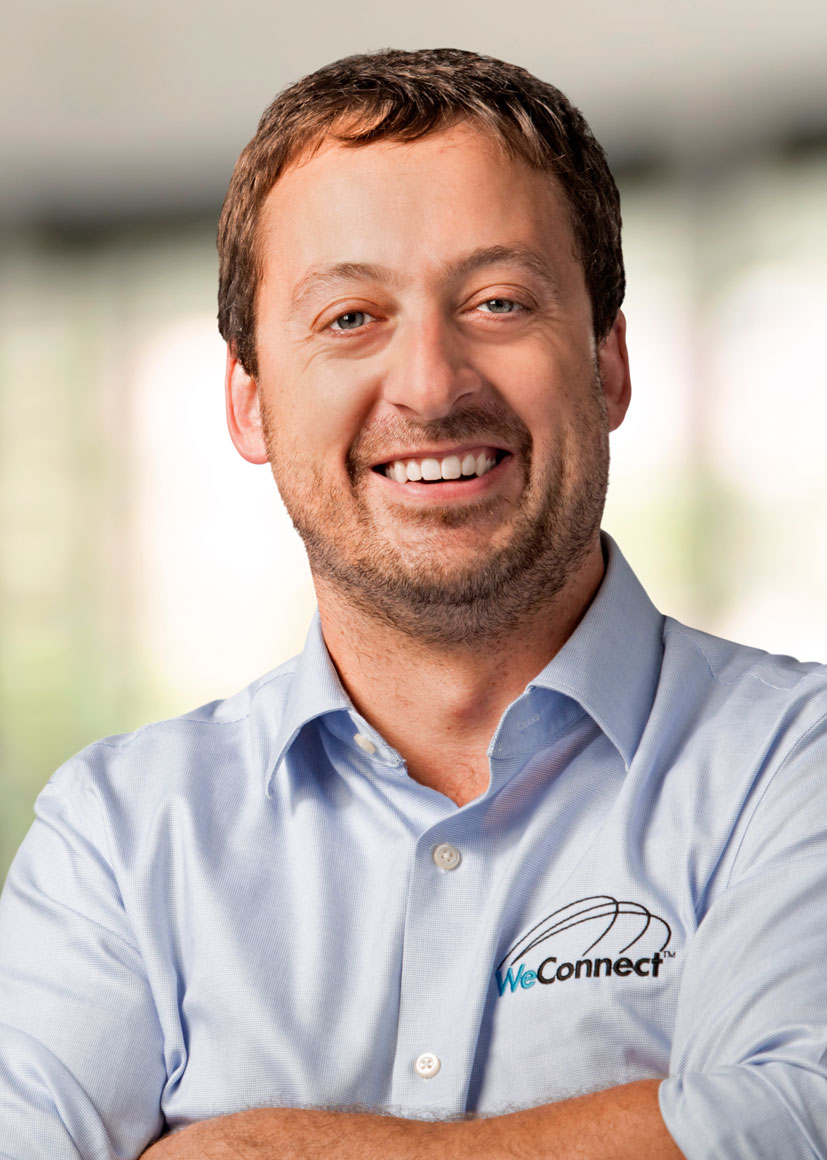 Brad Libby is an owner and CEO of WeConnect. He's the very definition of driven, modeling for our team what it means to challenge the status quo and do whatever it takes to get the job done. With a background in and personal passion for creating code, he defines fun as taking on that next technology challenge or unraveling a complex problem. There has hardly been a time when Brad was not running a company, starting his first IT business in middle school. Over the course of his career, that deep appreciation for technology and problem-solving has transformed into an ability to develop implementation solutions for leading telecommunications partners. Before becoming CEO of WeConnect™, Brad was owner and CEO of WeConnect Enterprise Solutions and MotorBrain Consulting.
Brad received his bachelor of science in Finance from Bentley University in Waltham, Mass. He lives in Lincoln, Maine, his hometown and the location of one of WeConnect™'s executive offices. On any given day, however, you will find him wherever WeConnect is developing its next breakthrough solution in connecting next-generation technology.
Meet Our Chairman, Tom Burgess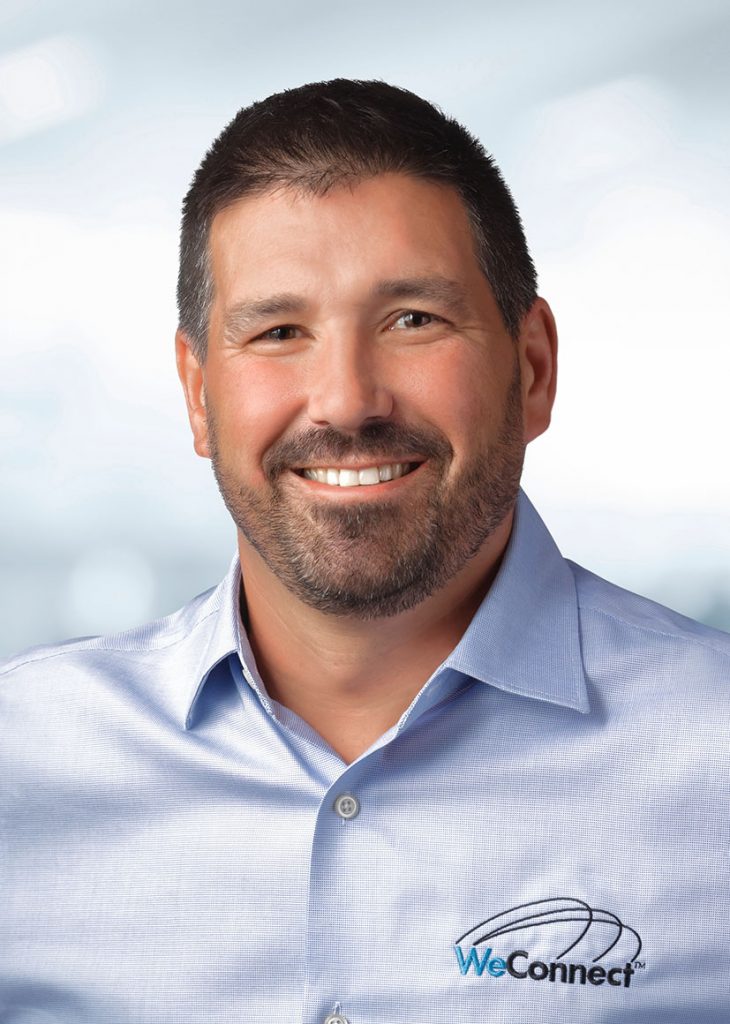 Tom Burgess is Chairman of WeConnect™. Tom's ability to build trusted, strategic partnerships is key to WeConnect™'s future growth. It's one of the primary reasons we've grown to where we are today, from operations in just one state to operations across the Midwest and on both coasts. With a keen sense for not only relationships but marketing, he is a driving force for the company's culture and external reputation. Before becoming Chairman of WeConnect™, Tom was owner and CEO of Alternative Entertainment, Inc. He founded his first company, Elevate97, formerly known as Fulfillnet, in 1997, which continues today providing fulfillment, print and environmental graphic design services for world-renowned retail brands.
Tom studied business and communication at the University of Wisconsin. He lives in Green Bay, Wisconsin, the location of one of WeConnect™'s executive offices.
Other Members of Our Leadership Team